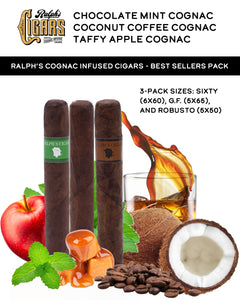 We get asked all the time– What are your best selling flavors?
These are IT! This 3-pack sampler features our three best-selling flavors from our cognac infused line of cigars. Each pack includes:

1 - Chocolate Mint Cognac
1 - Coconut Coffee Cognac
1 - Taffy Apple Cognac
Available in three different sizes, a 3-pack of: Sixty (6x60), Gorilla Finger (5x65), or Robusto (5x50).