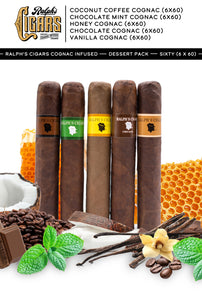 Want to try our flavors but not sure which one to try? Try Ralph's decadent Dessert 5-Pack 🍰
It's the perfect way to sample our best-selling dessert flavored cognac cigars! This pack includes:
Coconut Coffee Cognac 
Chocolate Mint Cognac 
Honey Cognac 
Chocolate Cognac 
Vanilla Cognac
*Please Note: If you live in Cook County, IL – You will be charged an additional tax of $0.30 per cigar.