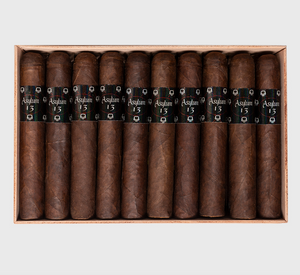 Asylum 13 cigars are true Nicaraguan puros. A dark, Nicaraguan Habano wrapper cloaks a feisty combination of aged Cuban-seed long-fillers grown throughout the black, volcanic soils of Nicaragua. Upon igniting, one can expect a complex, medium to full-bodied array of flavorful, along with a slow, cool burn letting you fully appreciate every last nuance. Earth, cocoa, espresso bean, black tobacco, sweet notes, and gentle spices.
**You must be 21 years or older to purchase this product.
**WARNING: This product contains nicotine. Nicotine is an addictive chemical.