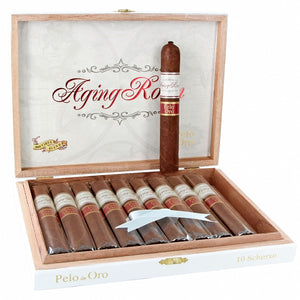 Besides its gorgeous branding, the Pelo de Oro is notable for its filler tobacco. Pelo de Oro (which translated means "golden hair" in spanish) is a difficult to grow leaf, with high susceptibility to disease and low yields. For this handmade, a specially selected, dark Nicaraguan wrapper was carefully placed around rare Pelo de Oro fillers to create a naturally sweet flavor with a hint of spice and chocolate that will surely satisfy...but only if you can get your hands on them. When two true blend masters like AJ Fernandez and Rafael Nodal create something together, you know it won't last long, and this small batch release is no exception. Limited quantities are available and once the last one is gone, that's all she wrote.
**You must be 21 years or older to purchase this product.
**WARNING: This product contains nicotine. Nicotine is an addictive chemical.